Custom orders are my favorite, they are the most challenging, the scariest, the most demanding, and they allow for the greatest exploration of my skills, expanding them to the limit!
Every custom order is different, that's what makes them so delightful! In fact, I have found over the past couple months that I struggle to design my own products. Some sort of "sole proprietor's block", I suppose. That's why I love custom orders so much, I get to collaborate with someone else on something that is just amazing. 
This year I have some very exciting new projects on the workbench, let's explore them together! 
The Xena Warrior Princess Sword.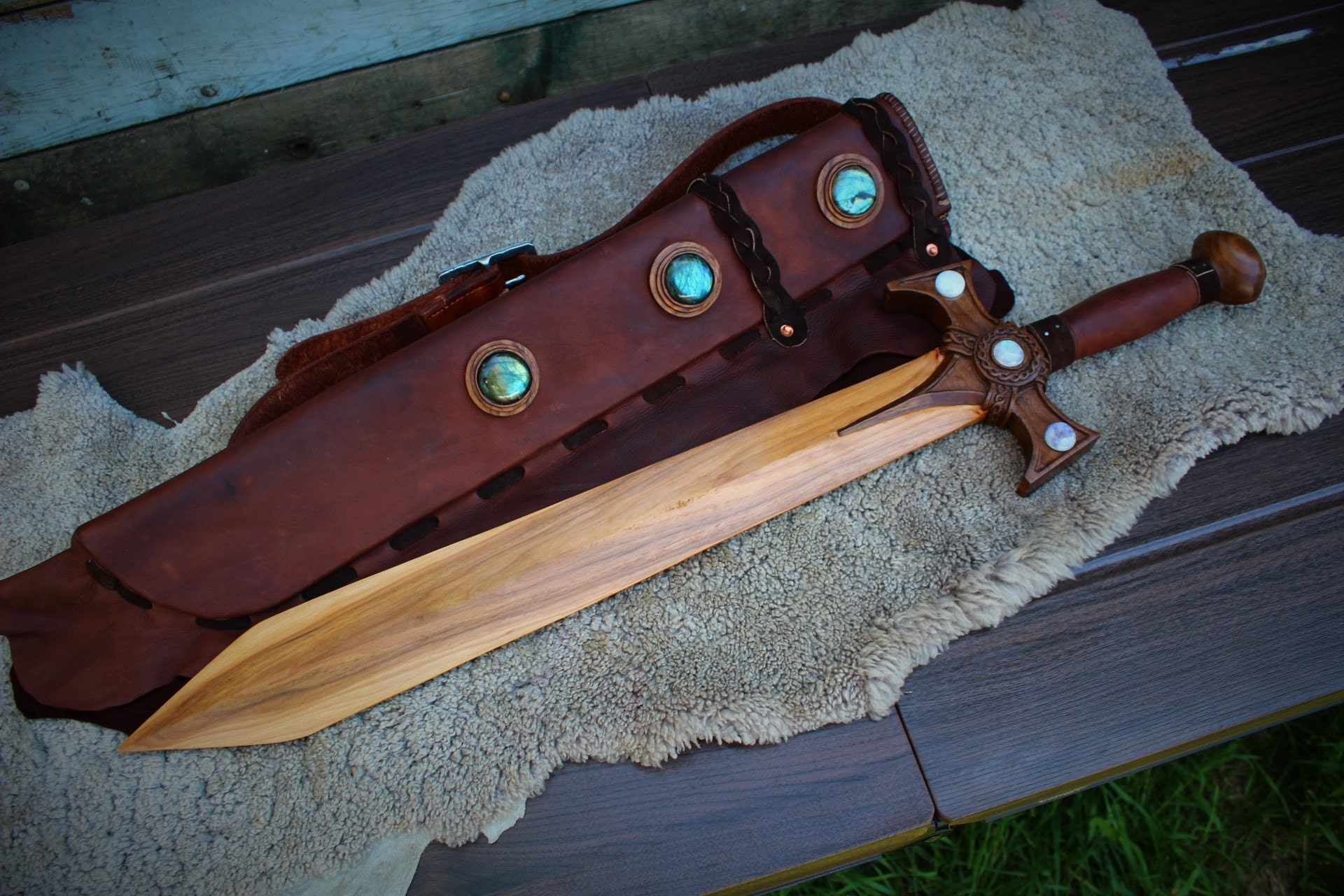 This sword is one of the most challenging ( and ofcourse, the greatest ) swords I have ever made. I created this one for the first time last year. At first, I thought it was impossible, and 5 attempts into the incredibly complicated guard, I KNEW it was impossible. But of course it wasn't, because in the end I figured it out and now, almost exactly a year later, I'm building another! I loved it so much I decided to put it up in my shop as a permanent resident.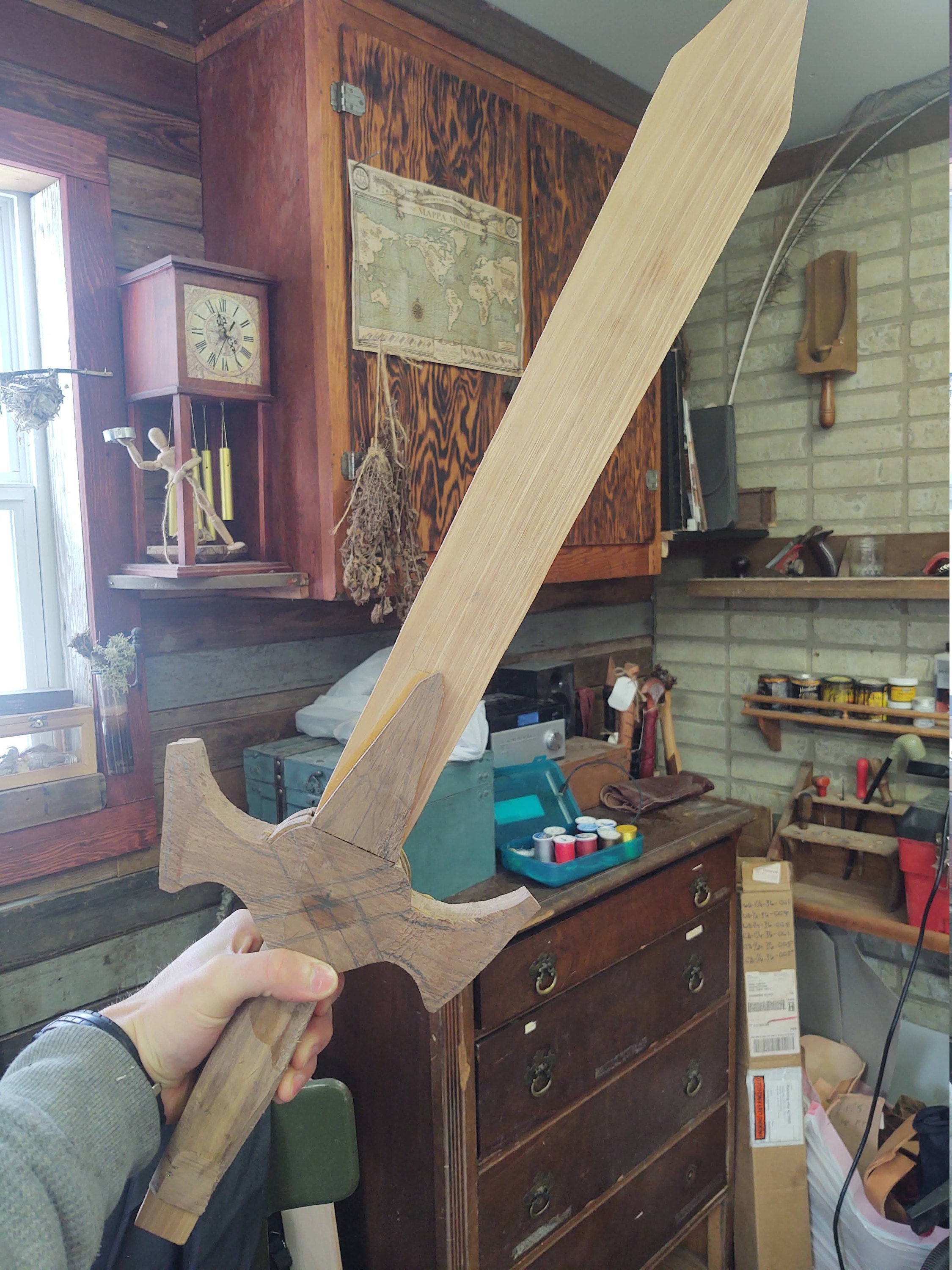 If you're interested in seeing the finished product, check out my Xena Warrior Princess Sword listing, or my website gallery.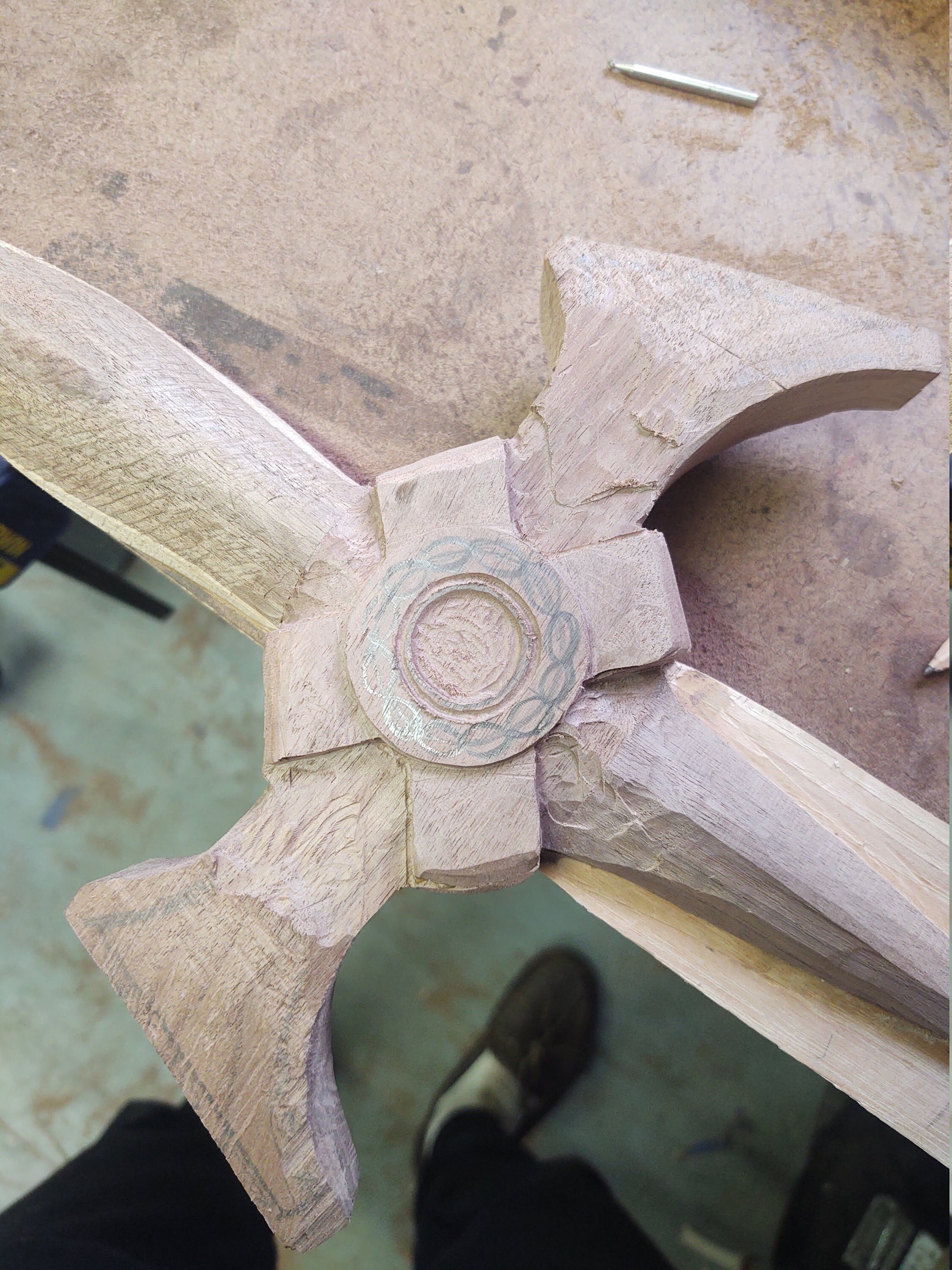 This time around things are going much smoother, as you can see here. Which is only right, I mean, if it was going worse I'd be really worried about my skills! 
I had an eye test recently at MEPS (I'm going into the Air Force in August) and learned that I have 20/15 vision, which is sharper than average. ( and yes, I had to google that because I had no idea what 20/15 meant. Except that it wasn't 20/20 and I was like "oh-shit!" But all was well : )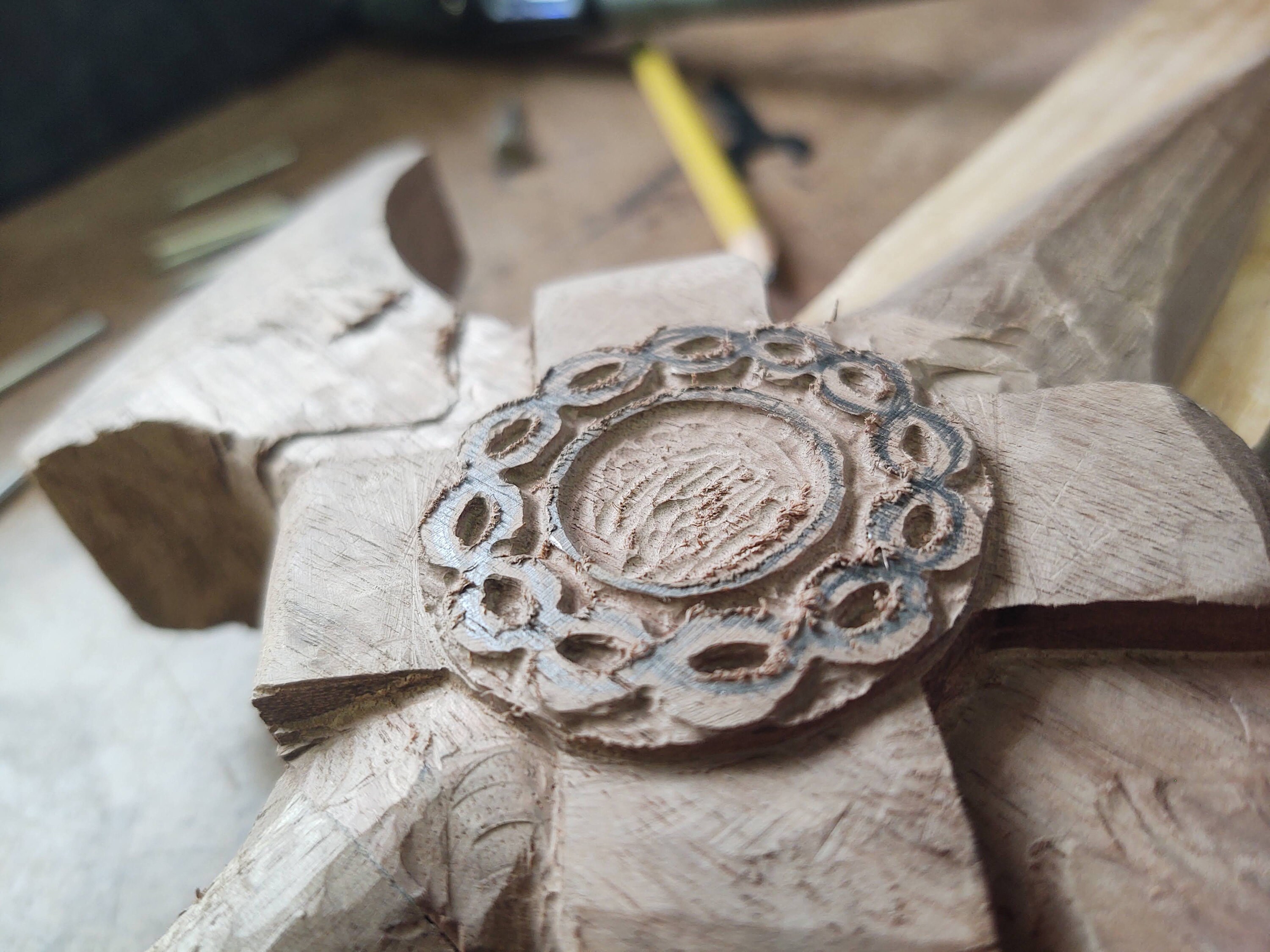 The biggest challenge I'm facing with the sword now is getting good moonstones for it, and labradorite. It's difficult to find the same dimension stones that have that increadible depth to them the first set had.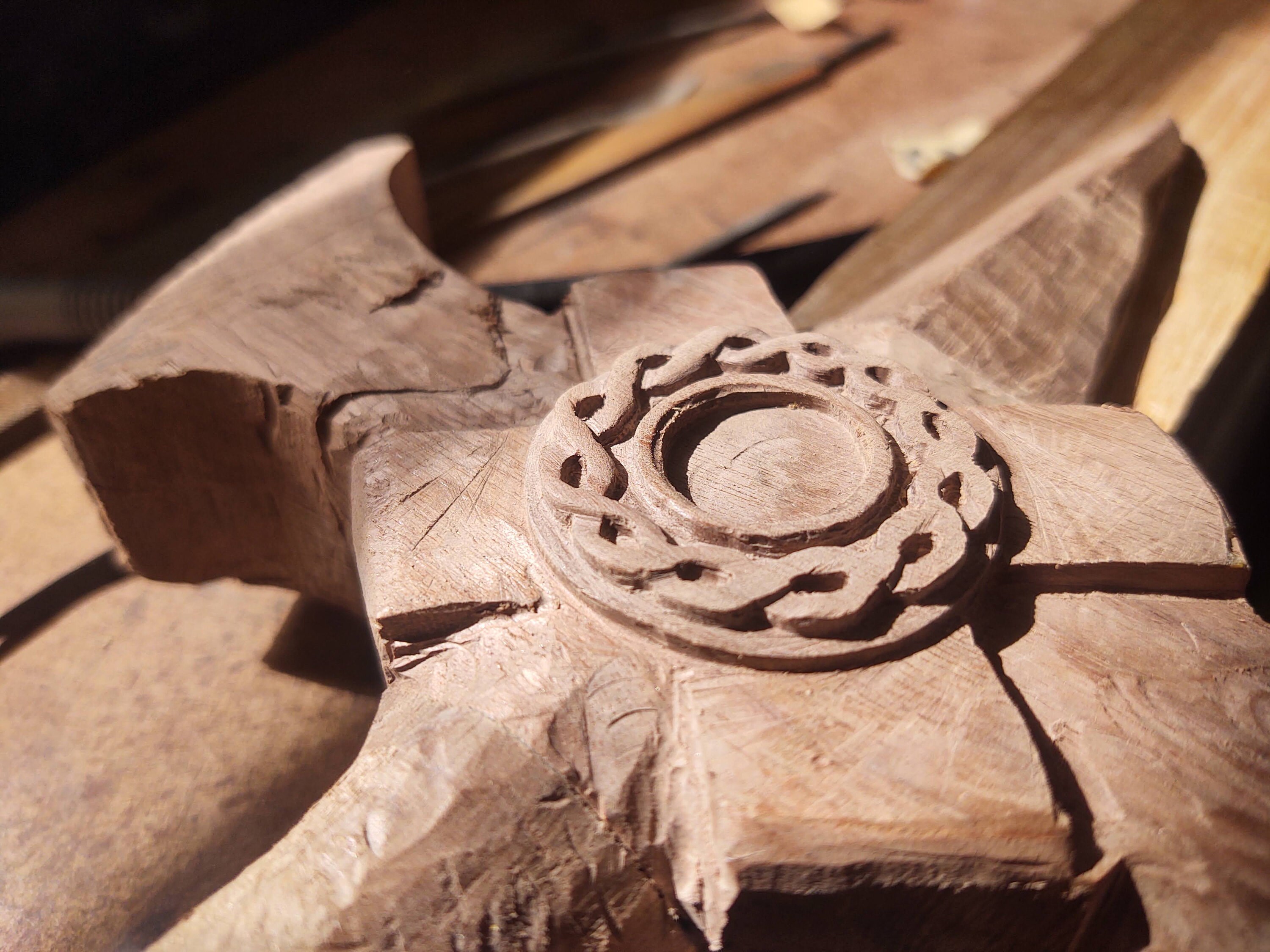 Ebony and Dogwood, 14 1/2 ", Black Unicorn Core.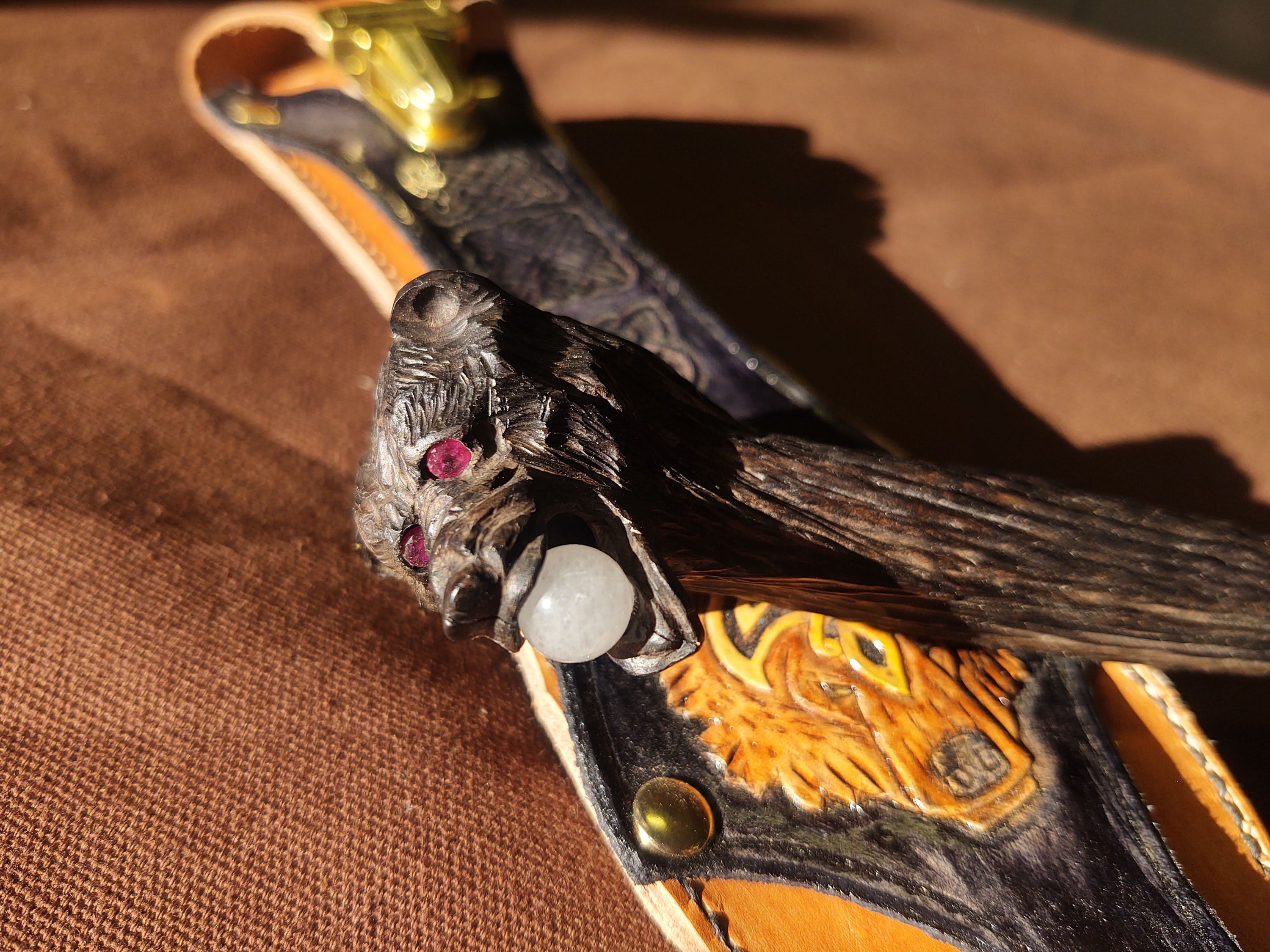 This wand is the most challenging wand I've ever made, so of course it stands to reason that it is also the most awesome! Nearly a year into its creation, this project has tested the limits of my wand making skills, and added a few to the roster! You might think that the bear head was the difficult part, and actually, to my own surprise, it wasn't. I don't do much work with resin, and so naturally, it was the 24 k gold resin inlay which spiderwebs the dogwood shaft of this wand which has represented the greatest challenge yet. 
It's not quite done either! Elder Futhark runes still need to be carelly wood burned between the gold veins, and a golden cuff needs to be wrapped around the join between handle and shaft for a complete and finished look. Black Unicorns are beautiful and powerful magical beasts, but unlike their snowy white cousin, they are far fiercer and more dramatic, so to speak. However, Black Unicorns love gold, in fact, they eat it as a snack! By adding gold to the wand, we are tempering the Unicorns more agressive behavior and channeling it's energy in a more organized way. I like to add myth and magic where I can.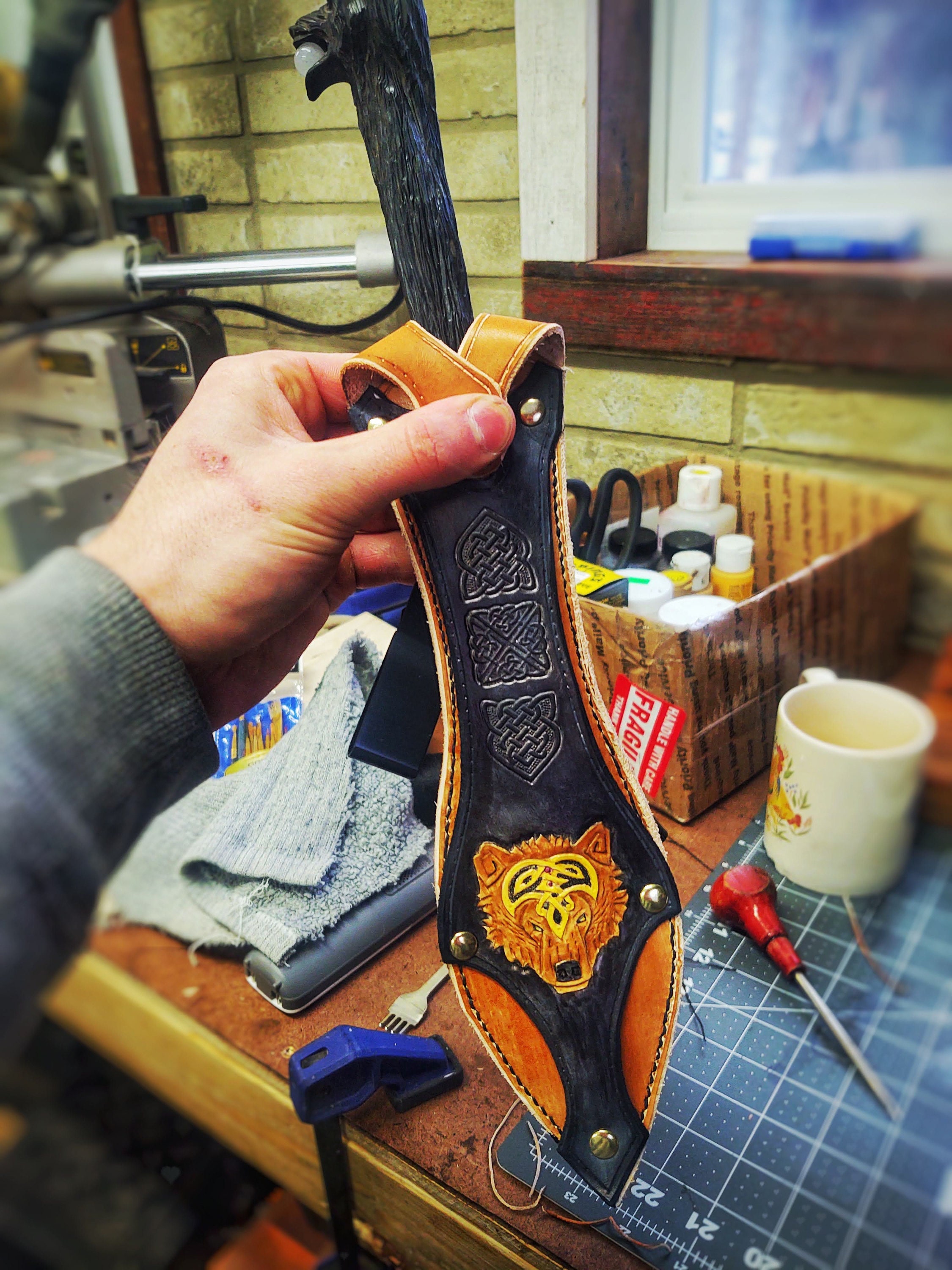 This comes with a beautifully tooled celtic bear themed scabbard with easy slip-clips in the back for carrying on a backpack strap, or at the small of the back. A very unique custom design, and a project which reminds me that greatness does not happen in a hurry.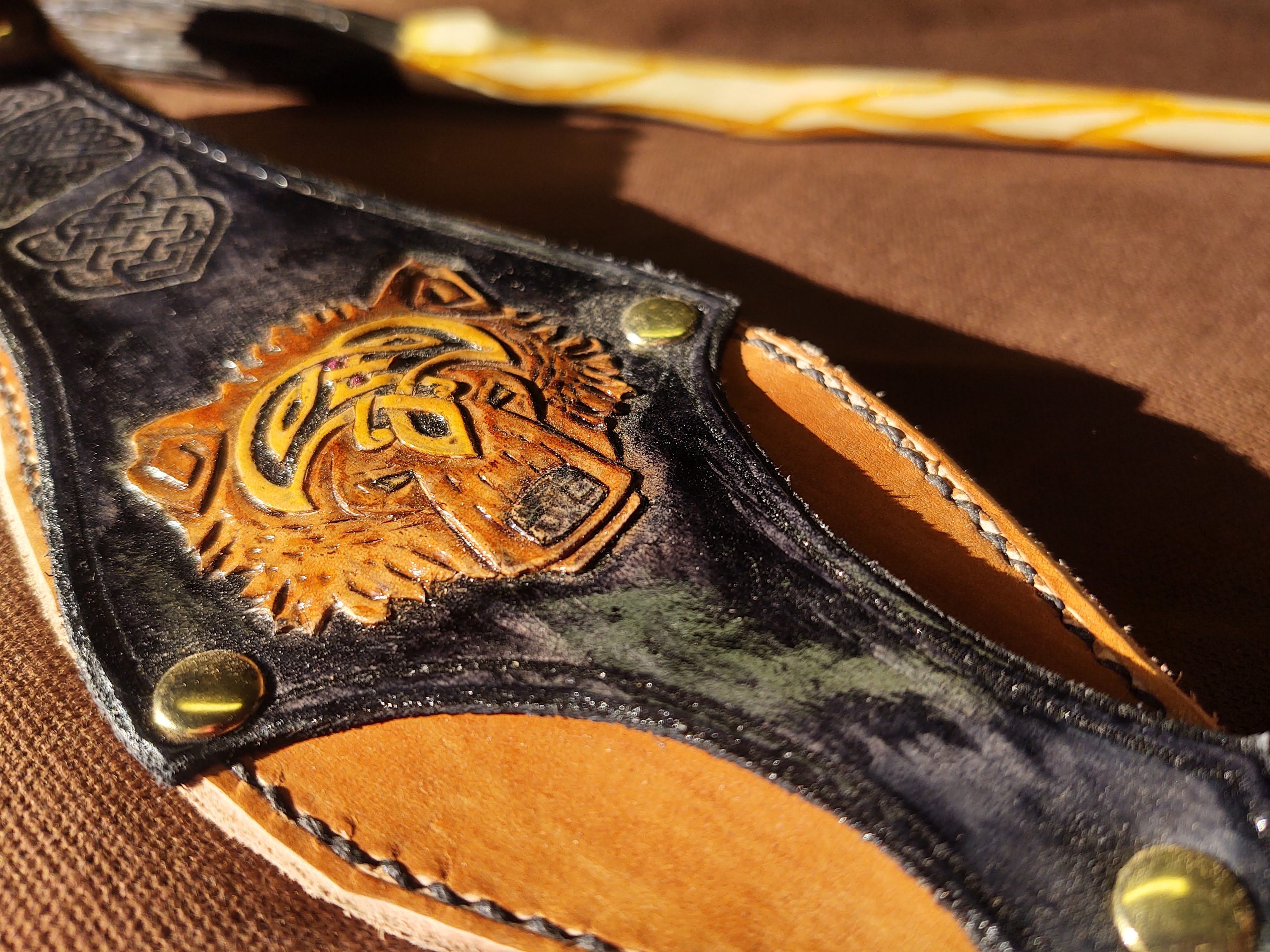 My Projects!!!!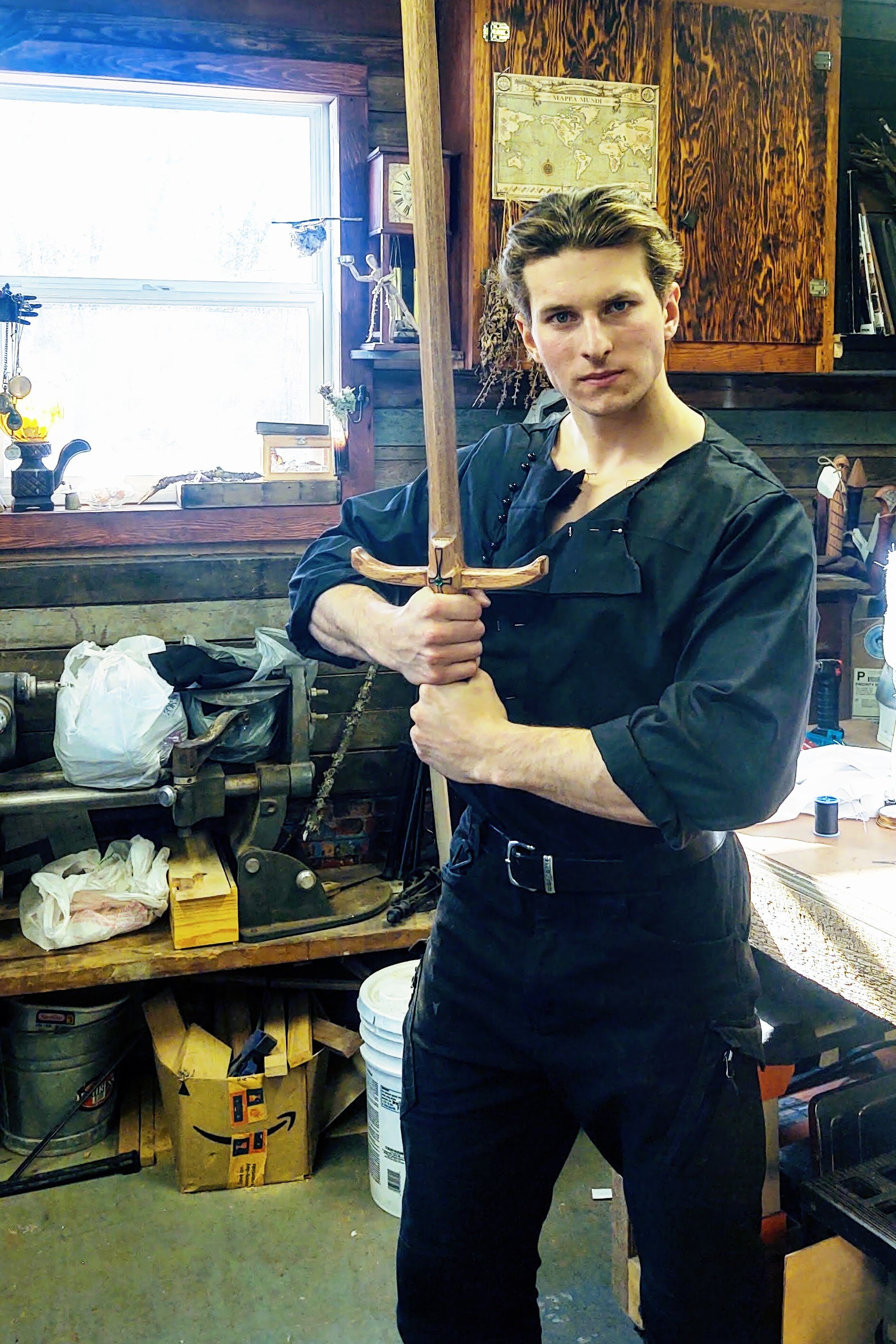 I love working on customer projects, and it delights me to see the golden reviews they give me. But you have to work on your own projects too!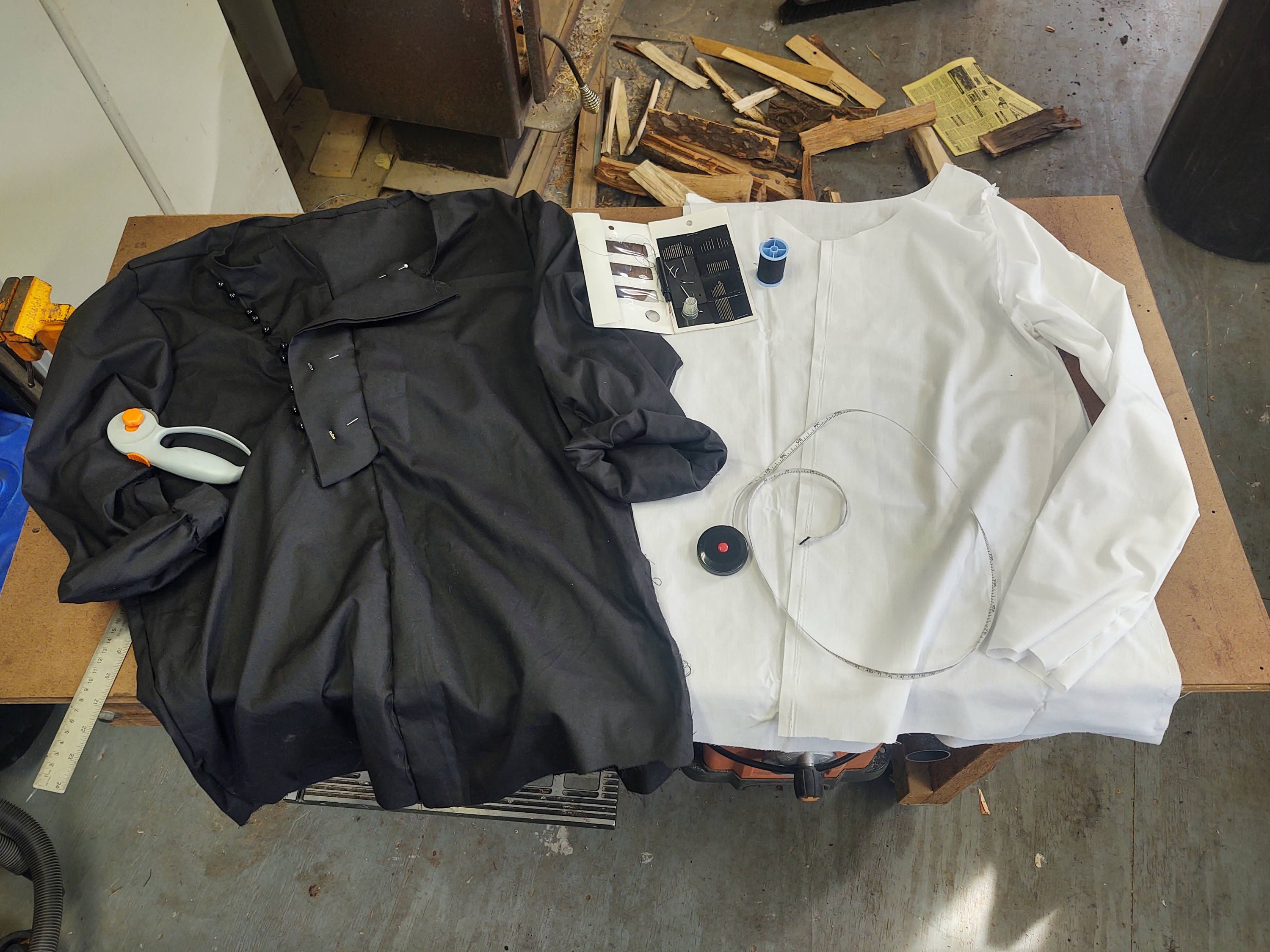 The Ren season is coming, and I'm ready to greet it with a bang this year!
Last year, I must admit, I was very disappointed in myself. The wood sword business was busy, and I had no time to make myself a costume. So when it came time to hit the Ren Faire with the girlfriend, I was in very sore attire.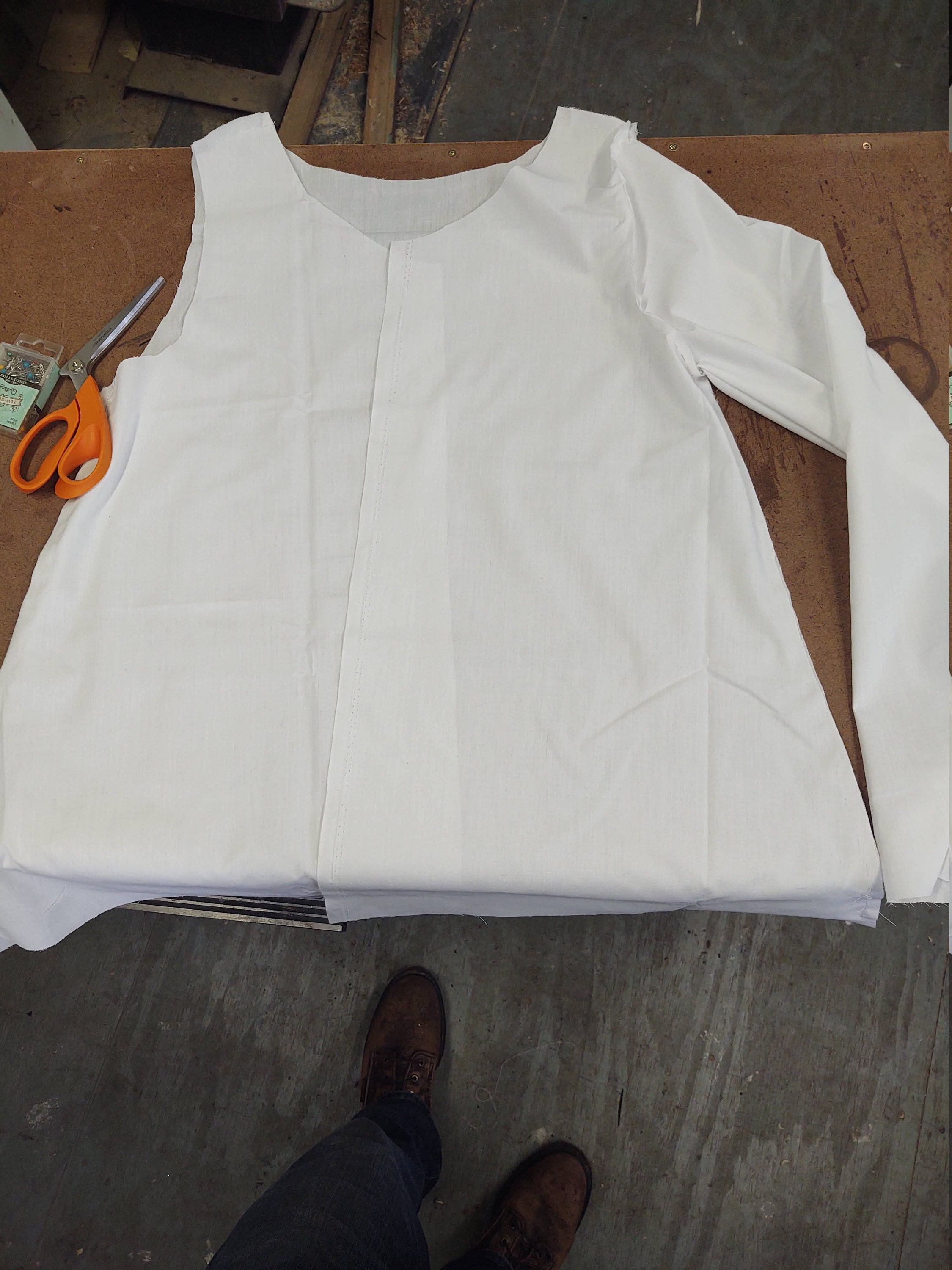 My gal went appropriately full out in period attire, whilst I wandered around behind her, miserable and poorly dressed in a dress shirt and slacks. And I'm sorry, but I can't pull it off if the costume isn't stellar and made my ME! After the shame of attending that Ren fair so poorly dressed, I knew I had to step up the game this year, and so I have, or rather, WE have!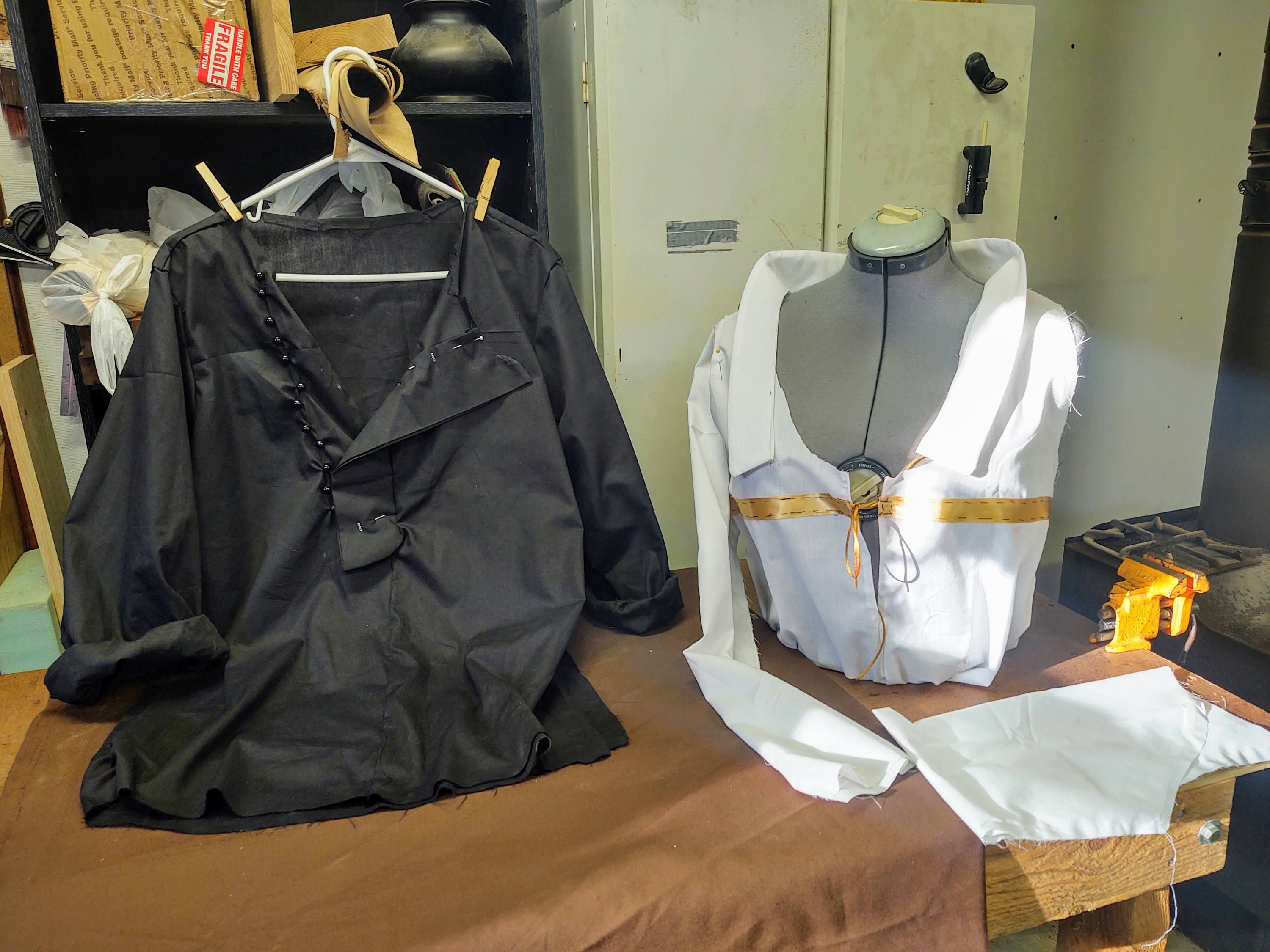 Pictured here are the muslins for a pair of to-be-beautiful Geralt of Rivia and Ciri of Cintra shirts just waiting to be completed! These are just the muslins, which for those of you who are unfamiliar with the tailoring term, is a faux version of the actual product which we use to help draft and foolproof the pattern. This is a very useful trick I picked up while doing google searches in my quest for proper Ren faire attire. 
These are loosely stitched and made from a cheap cotton material, but I will be ordering some quality linen from a fellow etsy seller for the final product. I am also building Geralt and Ciri's leather pants from the NetFlix series, and Geralt's armor from Season 1. Very excited! I can't wait to put it all on! 
I'm hoping to do more posts in the future talking about the build of these costumes. I've done a few shirts before, but pants will be new territory for me, which is exciting and a little daunting! If you are looking for any custom work, from wands to swords, leatherwork and ever textiles, get in contact with me on etsy or through my website here and lets bring your dream costume to life!  
Cheers!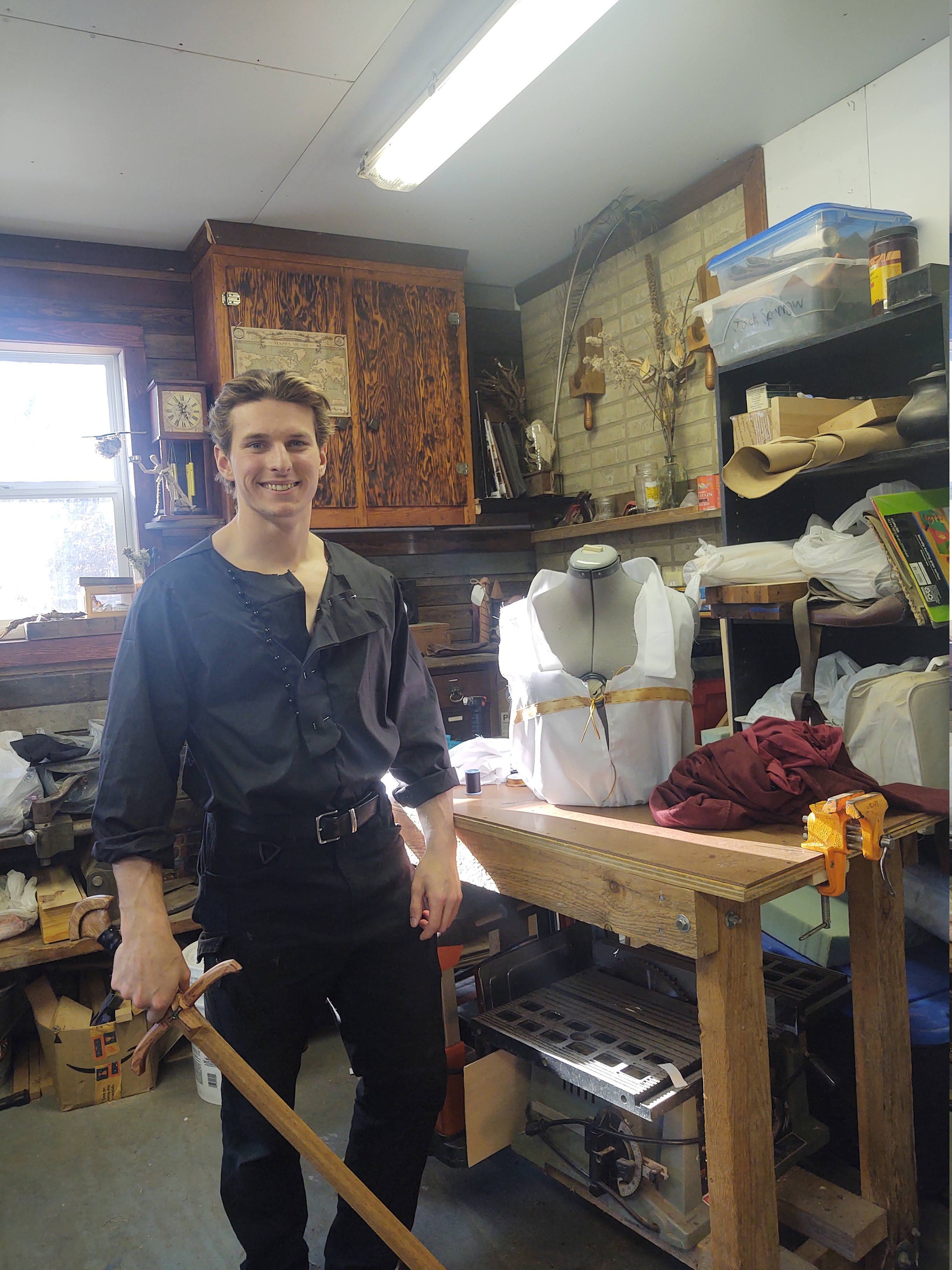 Daniel Hubatch. 
Owner, Designer, Founder.